About
👋 Heyyyy-yo!
Annie here, I'm the Front-end Engineering Lead at a super tiny but cool start-up. I'm a duo designer/developer 🦄 from Australia, but I've also lived in England and Japan, and am currently based in Toronto.
I graduated from a front-end bootcamp in Canada 🇨🇦, and have a BA in Multimedia Design from Australia 🇦🇺. On a non-technical note, I also have my PADI Advanced Scuba Diving License which doesn't get enough use!
My tech stack at work is Next.js, Webpack, Redux, TypeScript and SASS. (I don't touch the back-end often, but in case you're interested, it's Node.js, Express, Postgres and Redis.)
I'm happiest when I'm creating, learning, exploring and thinking about how to make things better. To find out more about me, please check out my sponsor page.
🤩 Everyone likes pictures, so here are a couple of memes my silly friends made of me: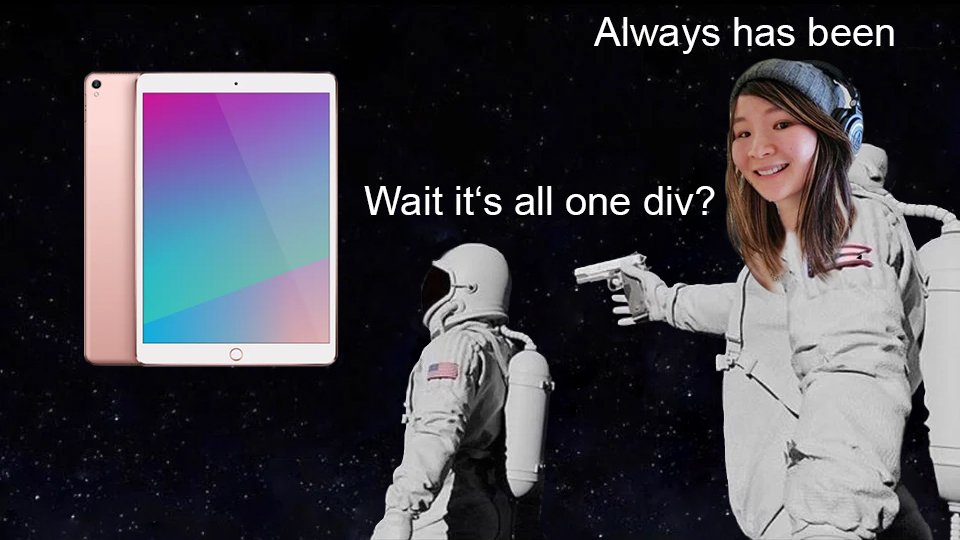 The iPad in this meme is actually made of pure CSS and yes, it's just one div. It's one of my favourite CSS art I created and you can view the code on Codepen.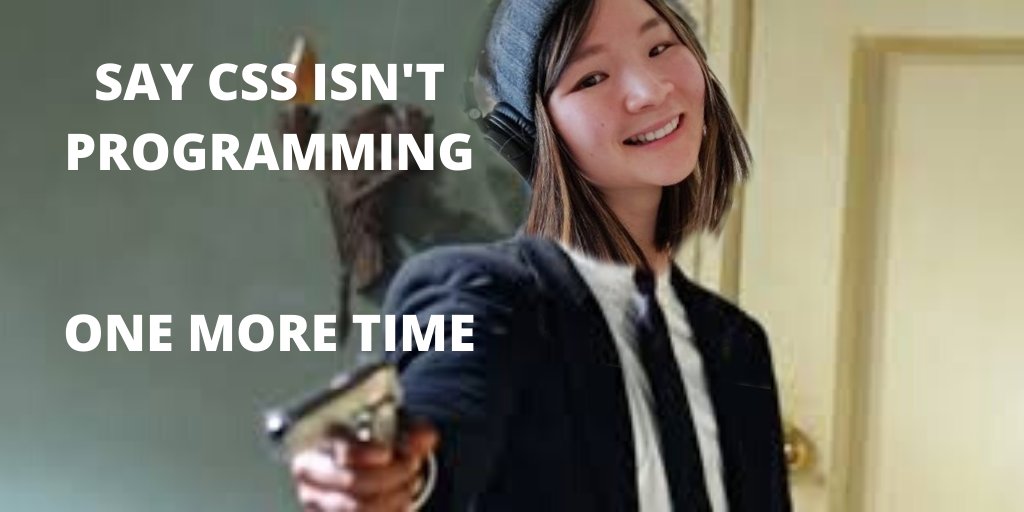 I take offence when people say front-end development is easy. I don't care if CSS is a programming language or not, but it's NOT easy and those who are good at it are rare diamonds and should be treated as such.
🥳 Fun facts about me:
👩🏻‍💻 Coding Environment: Dark 🖤 + music 🎶 + tea 🍵
🐱 Pet: One cat, aptly named "Rufus the Bold, Cat Extraordinaire"
⚡️ Personality Type: ENFP-T, Enneagram 7 (Super weird to find myself as a dev 😅)
🏠 Hogwarts House: Gryffindor
📚 Three Recommended Books: "So Good They Can't Ignore You: Why Skills Trump Passion" - Cal Newport, "The Subtle Art of Not Giving a F**k" -Mark Manson, "The Name of the Wind" - Patrick Rothfuss
🌐 Elsewhere on the Interwebs: Twitter, Polywork, Codepen, Github, Medium, YouTube, Instagram, Showwcase, Shutterstock
💬 Favourite Quote: "Develop interest in life as you see it; in people, things, literature, music – the world is so rich, simply throbbing with rich treasures, beautiful souls and interesting people. Forget yourself." –Henry Miller
---
Phew, you made it all the way down!! 💦 Thanks for dropping by! While you're here, be sure to check out some of my articles and those of the good people in the community!
Have a kickass day (whatever that means for you), and I hope all your tests pass and your divs stay centered! ✌️